Types of Colleges
---
Community Colleges in California
There are 110 publicly supported community colleges located throughout the state of California. They offer low-cost education to more than 1.3 million students annually. To be eligible for admission to a community college, a student must be 18 years of age or a high school graduate. At the community college, students who plan to transfer to a four-year college as a junior will take regular lower division college classes, completing their general education requirements before beginning work in their major at the four-year institution. Students may also earn a terminal Associate of Arts (AA) or Associate of Science (AS) degree, or complete a certificate program in vocational training. Severally community colleges offer study abroad programs and Honors programs which enrich academic opportunities.
The Community College may be a good choice for you if:
You plan on four years of college, but for financial or other reasons, you prefer to stay at home for the first two years.
You plan on four years of college, but you haven't met the academic requirements to directly enter a four-year college.
You know you want to attend college, but you are unsure of where to attend or what your career focus should be, so you want to complete your general education requirements first with fewer costs.
You wish to attend a college which will train you in two years for a vocation.
Four Year Colleges
California State University (CSU)

Ranging from Humboldt near the Oregon border to San Diego near the Mexican border, there are currently 23 campuses in the California State University system with an enrollment exceeding 325,000 students. CSU is committed to enrolling the top third of California high school graduates who have met the CSU minimum eligibility requirements. Each campus has its own unique geographic and curricular character. All campuses offer undergraduate and graduate instruction for professional and occupational goals as well as broad liberal education.
www.csumentor.edu
University of California (UC)
With over 159,000 students, including undergraduate and graduate students, the University of California (UC) has nine campuses offering instruction in a wide range of fields. Among the campuses are five medical schools, three law schools, and a school of veterinary medicine, as well as many professional schools including business administration, education, engineering, and oceanography.
Admission to the University of California is quite competitive. To be eligible for admission to the UC system as a freshman, you must meet the "A-G" Subject Requirements, the examination requirements, and the academic eligibility requirements. Meeting minimum requirements does not necessarily guarantee you a place at a campus or in the major of your choice. The campuses screen applicants and generally admit students with higher qualifications than the minimums required.
www.universityofcalifornia.edu
Private Colleges and Universities
Among the 200 colleges and universities in the state of California, there are approximately 60 private schools. These colleges do not have direct financial support from and control by the state of California. This independence means that they have greater freedom in designing programs, defining admission criteria and procedures, and determining the focus and culture of the school. Because of this self-direction, you will find great diversity among the private colleges. They are large, medium, and small; nonsectarian and religious; greatly selective to very modestly selective; traditional to innovative; specialized and liberal arts. Some are for women only or men only. Some are nonprofit; some are for-profit businesses. Campuses vary widely in location, environment, goals, admission requirements, and programs and degrees offered.
There are four types of private, four-year colleges:
Research institutions such as the University of Southern California or Stanford University.
Small, comprehensive universities such as the University of the Pacific or Loyola Marymount University.
Small specialized schools such as Cal Tech and the California Institute of the Arts
Small liberal arts colleges such as the University of Redlands, Occidental College, and Claremont colleges.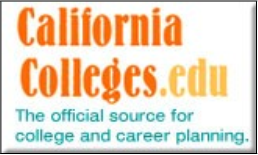 For more information on California Public Colleges (Community Colleges, CSU and UC) and Independent Colleges, go to: www.californiacolleges.edu.